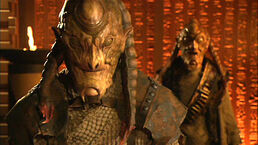 Oranians

Species:

Oranians

Distinctions:

Amphibian skin, head tails. Often referred to as Twi'leks by members of the Tau'ri.

Homeworld:

Oran

Language:

Oranian, various.

Government:

Scattered clans and clan leaders

Alliances:

Various, Lucian alliance for some.

Status:

Alive
A humanoid race that bears interesting superficial similartiy to the Serrakins but they are unrelated. Infact, Oranian DNA is more amphibian then reptilian and they can breath underwater as they possess organs to process oxygen from water. Salt water is very unconfortable and can possibly be fatal to an Oranian who suffers too much exposier.
Thr Oranian people were enslaved by the Goa'uld over three thousand years ago. Oran was stripmined of its naquadah deposites and its people spread throughout areas of the Goa'uld domain as slaves far away from the Orion arm of the MW.
Physiology
Edit
They are very strong, far stronger then Jaffa or Humans as two Oranians can carry a chest full of WGN with no obvious strain.