| | |
| --- | --- |
| | This article is currently under construction and needs to be improved. Please refer to the talk page for more info. You can help by editing the page. |
Gadmeer
Species

Gadmeer

Distinctions

Sulphur-Based

Home World

P5S-381

Primary Language

Gadmeer

Government

Unknown

Alliances

None

First Appearance

Ep:Scorched Earth
The Gadmeer were a peaceful, fairly advanced race with 10,000 years of history that were attacked and exterminated around a millenia ago by an enemy, possably the Goa'uld. They launched a massive seed ship containing enough genetic samples from their homeworld and species to begin rebuilding. It took millenia to find the right world, it had to fit thousands of factors exactly.
It began terraforming the world, but the SGC had moved another peaceful race, called the Enkarans, to that world because of its ozone layer, which protected sensitive Enkaran eyes from going blind. They ship had already expended too much of its resources on that world to stop. They reached an agreement however, the Gadmeer ship transported the Enkarins back to their homeworld, which had been rejected because of failing several factors programmed into the ship, but it was the perfect place for the Enkarans. So in the end, both peoples were saved.
The Gadmeer are currently the only known sentient sulpher based life form known to exist/have existed.
Technology
Edit
The Gadmeer were highly advanced, in several areas more so then the Goa'uld. However the race that eliminated them was a superior military power.
Rapid clone growth
Lotan
Terraforming
Transporters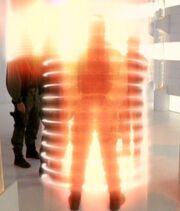 Gadmeer transporters were more sophisticated then Goa'uld ring transporters as they require no platforms to operate. The range limit is unknown.
Power generators
The power systems of the terraforming vessel produced enough juice to allow hyperspace travel, as well as power the clonning technology, computers, terraforming beam and computers.
Shields
If this vessel was capable of travel through hyperspace then it must have had a shielding system of some variety.
Holographic display device